Featured Events
---
---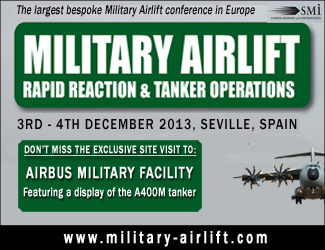 Military Airlift Rapid Reactions & Tanker Operations
03 – 04 December, 2013. Melia Sevilla Hotel, Seville, Spain
Military Airlift 2013 is the largest bespoke Military Airlift conference in Europe.
Don't miss the chance to hear from the industry's key military speakers and stakeholders of the airlift community all in one room. This must-attend event will be supported by representatives from across NATO, EATC and MCCE. Attendees will be invited to an exclusive site visit to the Airbus Military Facility, where there will be a display of the A400M airlifter.
Our expert speaker line-up also features:
Lieutenant Colonel Juan Dominguez-Perez, Plans Branch, Spanish Air Force

Lieutenant Colonel Giuseppe Canfora, Air Mobility, JAPCC

Lieutenant Colonel Ron De Haar, Chief, ISAF Strategic Flight Coordination Centre

Colonel Reinhard Krell, Director, Movement Coordination Centre Europe

Colonel Frank Rombouts, Commander, Heavy Airlift Wing of the Strategic Airlift Capability Programme

Colonel Luigi Riggio, Commander 14th Wing, Italian Air Force

Major General Pascal Valentin, Commander, European Air Transport Command, French Air Force

Laurent Donnet, Assistant Capability Manager, European Defence Agency
In addition – do not miss the exclusive site visit to:
Airbus Military Facility, Seville on the 5th December 2013
The site visit will feature a display of the new A400M tanker
HOW TO REGISTER
Book online – http://www.smi-online.co.uk/2013militaryairlift20.asp
Contact Cem Tuna on Tel: +44(0) 20 7827 6736
Email: ctuna@smi-online.co.uk
---
---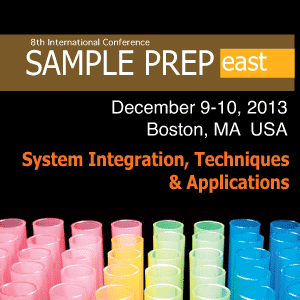 9-10 December, 2013. Boston, MA
SAMPLE PREP EAST Conference is the 8th meeting in the Knowledge Foundation's Sample Prep Conference Series – an internationally recognized meeting for experts in sample preparation technologies for detection, identification, diagnostics and analysis of biomedical, biological and chemical agents, substances and threats in point-of-care, laboratory and field settings will explore the latest R&D developments, ready-to-market technologies, and their applications by exploring the following topical areas:

– Robust methodologies for sample collection, (pre-)concentration, lysis, and target extraction
– Critical role of sample prep in early diagnostics
– Rapid sample-to-sequence techniques
– Point-of-care sampling, detection and analysis
– Sample preparation with microfluidics
– Sample prep-on-a-chip
– Robust sampling methodologies (automation, high-throughput, combinatorial approach in sample prep)
– Alternative amplification techniques for sensitive sample prep
– Sample preparation as a separate system vs. an integrated module approach
– End-user prospective for biodetection and sampling technologies and devices
– Alternative and disruptive approaches to sample preparation and applications
– Field-ready devices: compatibility/reliability/scalability

Novel robust sampling and bioforensic techniques will be reviewed as applicable to biodefense, field & point-of-care biomedical & clinical applications, food & water testing, and environmental & agricultural sampling. Our group of leading experts from government, academia and industry will address the following discussion issues and areas of focused technology development and implementation:

– Target enrichment and background depletion techniques
– Isolation of dilute objects on cell and molecular levels
– Immiscible phase purification
– Novel methods of extraction from tough (non-filterable) matrices
– Nucleic acid and protein based sample prep for next generation sequencing
– Nanotechnology and miniaturization challenges for sample preparation
– New assay and sequencing technologies for sample preparation, detection and analysis
– Standardization and regulatory issues in sample preparation across different applications
– Sample prep technologies for detection/diagnostics vs. pharma
---
---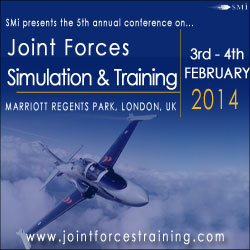 Joint Forces Simulation & Training
3 – 4 February, 2014. Marriott Regents Park Hotel, London, UK
The 5th annual Joint Forces Simulation & Training conference will feature 4 exceptional keynote addresses along with an international panel of senior military speakers who will provide first-hand experience in the processes involved in supporting and maintaining Joint Force capability from the commanders driving the sector.
The exceptional speaker line-up includes:
Lieutenant General Mark Schissler, Deputy Chairman, NATO Military Committee, NATO

Air Vice Marshal Bob Judson, Director Joint Warfare, UK Joint Forces Command

Major General Serronha, Commander, Madeira Islands Military Operational Command, Portuguese Armed Forces

Brigadier General Boni, Commander Italian Joint Force Headquarters, Italian Ministry of Defence

General (Retd.) Thierry Cambournac, former Inspector General of the Armed Forces (2011-2013), French Army
The event will offer unrivalled networking opportunities with leading defence organisations and senior international military personnel, giving you the chance to communicate directly with the key decision makers driving the Joint Forces concept.
HOW TO REGISTER
Book online – http://www.smi-online.co.uk/2014jointforces-simulationtraining7.asp
Contact Cem Tuna on Tel: +44(0) 20 7827 6736
Email: ctuna@smi-online.co.uk
---
---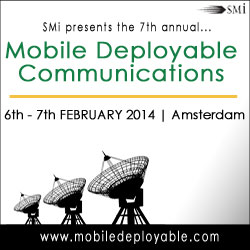 Mobile Deployable Communications
6 – 7 February, 2014. Movenpick City Centre Hotel, Amsterdam
The 7th annual Mobile Deployable Communications conference will address key topics of CIS networks and tactical communications, C4ISR standardisation, interoperability across the global armed forces, operational experiences and future technologies.
Discuss the issues faced by the industry, hear from the experts and keep up to date with the latest case studies and challenges at Mobile Deployable Communications 2014.
Top-Ranking Speaker Faculty includes:
Colonel Horst Treiblmaier, Chief of Communication, Ministry of Defence, Austria

Colonel (BG-A) Krasimir Yordanov, IT & Security Branch Chief, CIS Directorate, EUMS, European External Action Service

Aurel SABO, Deputy Commander of Mobile CIS Base, HQ Mobile CIS Base, Mobile CIS Base of Slovak Armed Forces

Karl Thurnhofer, Director Communication Section, Command Support Centre ICT Engineering Division, Federal Ministry of Defence and Sports, Republic of Austria

WO2 (YofS) RM Stephen Scott MBE, COMUKAMPHIBFOR Yeoman of Signals, J6, Royal Marines
Don't miss the interactive half-day conference workshop on:
Mobility & Deployability for Emergency & Post-Disaster Recovery Communications
Hosted by: Martin Jarrold, Chief,International Programme Development at Global VSAT Forum
HOW TO REGISTER
Book online – http://www.smi-online.co.uk/2014mobiledeployable-comms7.asp
Contact James Hitchen on Tel: +44(0) 20 7827 6054
Email: jhitchen@smi-online.co.uk
---
---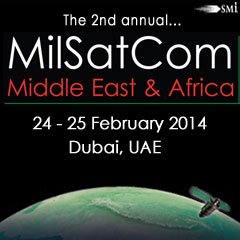 MilSatCom Middle East & Africa
24 – 25 February 2014. Amwaj Rotana, Jumeirah Beach Residence, Dubai, UAE
The organisers of Global MilSatCom, the leading military communications event for satellite professionals, is proud to announce that the registration for the 2nd annual MilSatCom Middle East & Africa conference is now open.
MilSatCom ME&A 2014 is the ideal platform for industry leaders and high-level military to come together under one roof to discuss the future of SatCom within the region.
HEAR FROM THE EXPERT SPEAKER LINE-UP
Lieutenant Colonel Ali Alshehhi, Manager, Space Reconnaissance Centre, UAE Armed Forces

Omran Sharaf, Director of Space Image Processing & Analysis, EIAST

Nico Stephan, General Manager, LSE Space ME

Speaker to Be Confirmed, UK MoD

Group Captain Lanre Oluwatoyin, Director, Directorate of Space Technology, Armed Forces of Nigeria

Sethu Menon, Researcher, Space Policy Institute

Dr Mohamed Mahmoud, Researcher, Integrated Systems Engineering Department, National Authority for Remote Sensing and Space Sciences
PLUS – ATTEND THE POST-CONFERENCE WORKSHOP
Flexible, Cost Effective, Multi-Mission Commercial Solutions for Military Forces
Hosted by: Shady Ahmed Ali, Business Development Director for MEA at SatCom Direct and Nathan Andrews, Business Development Manager, SatCom Direct International
Don't miss the chance to be a part of this new and exciting event, bringing together the key players and industry experts from the region and across the world.
HOW TO REGISTER
Book online – http://www.smi-online.co.uk/2014milsatcom-mea19.asp
Contact Cem Tuna on Tel: +44(0) 20 7827 6736
Email: ctuna@smi-online.co.uk
---
---

25 – 27 February, 2014. Pak-China Friendship Centre, Islamabad
Pakistan is besieged in maintaining itself as a stable state and aims to overcome the multi-dimensional issues to the apparent wellbeing of its people and their endurance. The country is keen to take effective measures for the security concerns the whole nation is facing.
In this context, the 10th edition of Safe Secure Pakistan is designed to address the safety & security needs of the region by bringing together major international and local exhibitors to display latest technology, innovations and advancement of homeland security, workplace safety, fire fighting, mobility, rescue & emergency.
The show will attract a large number of industry professionals and experts from across the globe to interact with their counterparts, strengthen relationships and forge alliances in a highly focused and interactive environment.
For Space Reservation & Visitor Registration please visit:
www.safesecurepakistan.com
---
---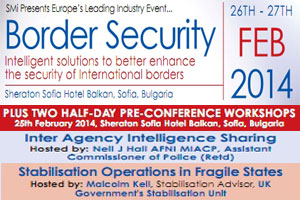 26 – 27 February, 2014. Sheraton Sofia Hotel Balkan, Sofia, Bulgaria
Returning to Bulgaria, SMi's Border Security 2014 Conference will feature discussions on current concerns in Eastern Europe and around the world. As a relatively new member of the European Union, Bulgaria faces geo-political challenges unlike many of its co-members. Along with Romania, it is also doing everything it can to be accepted in to the Schengen Area. This necessitates effective border policing and this position as a border security hot spot makes it an ideal and intriguing venue.
Speaker Line-Up Includes:
John Vine CBE QPM, Independent Chief Inspector of Borders and Immigration, UK

Police Brigadier General Gabor Kovacs, EU Twinning Project, Hungarian National Police

Captain Pierre Wuillemin, Head of Identification and Biometrics from BGC, Swiss Federal Customs Administration FCA, Border Guard Cops, Switzerland

Adriano Baptista, Head of Operations Division, European Union Satellite Centre

Petrus Neacsu, Head of Telecommunications Unit within Directorate for the Implementation of Integrated System for Border Security, Romanian Border Police.

Peter Waldbauer-Hable, Senior Detective Chief Inspector, Bavarian Police and many others.

Plus, 2 half interactive half-day pre-conference workshops:
Inter Agency Intelligence Sharing, by Neil J Hall AFNI MIACP, Assistant Commissioner of Police (Retd)

Stabilisation Operations in Fragile States, by Malcom Kell, Stabilisation Advisor, UK Government's Stabilisation Unit

Contact: James Hitchen
Phone: +44 (0) 207 827 6054
E-mail: jhitchen@smi-online.co.uk
URL: http://www.smi-online.co.uk/2014border-security30.asp
---
---

4 – 6 March, 2014. Kyiv, Ukraine
The 4th edition of KIPS Kyiv, the international specialised exhibition of security systems and technologies, will take place on 4-6 March 2014 in the International Exhibition Centre, Kiev, Ukraine.
Traditionally, KIPS Kyiv 2014 will be held alongside KyivBuild the leading exhibition in Building taking place for 17 years, showcasing all the developments and achievements in the industry.
In 2013, KIPS Kyiv and KyivBuild have both dedicated their business programmes to the topic of integrated security for state and society. Events and subjects covered the following areas:
Integrated security in construction
Security issues related to manufacturing and using construction materials and equipment
Integrated security in urban infrastructure
Integrated transport security
Traffic safety
Environmental safety: experience of innovative state projects
Modern technological methods for ensuring security of facilities and premises
The 15th Ukrainian Union of Fire and Technological Safety conference
Current issues related to technical regulation and standardisation in fire safety
Creating a market for quality products in the automated fire-fighting systems sector
Modern approaches towards personal security
For more information, please visit the website.
Organiser: ITE Group
ITE Group plc is a leading organiser of trade exhibitions and conferences, specialising in fast-developing markets, including Russia, Central Asia and CIS. The company organises over 250 every year in 15 countries. The ITE Group spans 27 offices worldwide, ensuring a high level of expertise and support across all events. CIPS Caspian is part of a large portfolio of security events organised by ITE. For the events calendar, please visit www.securityshows.com
For more information, please contact:
Dilshod Yusupov
Project Manager
ITE Group
T: +44 (0) 207 596 5079
E: dilshod.yusupov@ite-exhibitions.com
---
---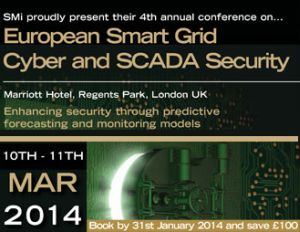 European Smart Grid Cyber and SCADA Security
10 – 11 March, 2014. London
SMi Group proudly presents its 4th annual European Smart Grid Cyber and SCADA Security conference, taking place in London, on the 10th-11th of March 2014. Registration for the event is now open.
Event's website:
http://www.smi-online.co.uk/2014cybergrids12.asp
The event now in its 4th year delivers the latest developments on how Utilities from the US and Europe are dealing with persistent threats and vulnerabilities. Attendees will receive insight into present & future SCADA & Smart Grid technologies, security risks surrounding Electricity and Water infrastructures.
The event agenda includes a presentation from ENISA covering minimum security measures for Smart Grids, and others on hostile behaviour aimed at the Smart Grid and how it can be detected early, new approaches to predictive forecasting models and process monitoring, and the cost of security and how to measure ROI. Contributors include Waternet, Scottish and Southern Energy, Maersk Oil Qatar, Transmission Security Corporation, California Water and Power Company, Viasat and many others.
The event will be followed by interactive workshop, "Data analytics and predictive models for ICS/SCADA cyber security", hosted by Dr Damiano Bolzoni, COO, Security Matters.

Keynote speakers include:
Edward Hamilton, Head of Threat and Vulnerability Management, Price Waterhouse Coopers

Konstantinos Moulinos, Expert in Network & Information Security, ENISA – European Network and Information Security Agency

Henrik Magnusson, Technical Strategy Manager for the Future Networks team, SSE

Brett Luedde, Director Critical Infrastructure Security, Secure Network Systems, Viasat Inc

Johan Rambi, Privacy & Security Officer, Alliander N.V.

Rob van Bekkum, Program Manager, ENCS

Rudolf Baumann, Chairman of the Transmission Security Cooperation, Senior Advisor Operations, swissgrid

Steve Brunasso, Manager of Security and Networking, California Water and Power Company

Daniela Pestonesi, Automation and Diagnostics, Enel Engineering & Research SpA

Philip Westbroek, Telecommunications and security advisor, Enexis

Mauriche Kroos, Security Officer, Enexis

Martin Visser, Security Officer Process Automation, Waternet

Frank Hyldmar, Vice President, ESMIG

Claudio Lo Cicero, Head of Global Information Security, Maersk Oil Qatar A S

Bob Lockhart, Research Director, Navigant Research

Rick Welsh, Head of Cyber Insurance at Aegis at Lloyds, Aegis London

Galen Rasche, Technical Executive, Electric Power Research Institute
For more information about this event and how to register, contact Mohammed Malik on +44 (0) 20 7827 6166 or email mmalik@smi-online.co.uk
For sponsorship opportunities contact Sadia Malick, Director, via smalick@smi-online.co.uk or call +44 (0) 207 827 6748.
---
---

11 – 14 March, 2014. Singapore, Singapore
After the successful launch of our Cyber Intelligence conferences and exhibitions our Asia show is moving to Singapore. With many governments in Asia looking to share knowledge and gain a better understanding of how to combat cyber-attacks in the region, this is the must attend event in Asia to gain the knowledge and meet with the key policy and strategy makers in the regional governments and law enforcement agencies.
With more sophisticated and harder to trace cyber breaches taking place, governments are finding it harder to keep up to date with the hackers, and are continuing to look towards cooperate with the private sector to be one step ahead of the criminals.
Taking place in Singapore, which as a nation has one of the best critical infrastructures in place. Furthermore, Singapore is where many information security firms locate in Asia allowing attendees to opportunity to meet with many global private sector companies to discuss the latest technologies on offer.
Cyber Security is becoming a faster and more complexed market and Cyber Intelligence Asia 2014 will allow attendees to analyse the latest defences on offer with regards to Malware, Data Loss Protection, Password Security, Critical Infrastructure, Digital Forensics, Data Recovery and Data Retrieving.
Cyber Intelligence Asia attracts a global attendance to network and discuss the latest solutions and systems in the market place that is targeted to law enforcement agencies and government's in the region.
---
---

SECONEXPO 2014 (International Security Conference & Exhibition 2014)
12 – 14 March, 2014. KINTEX, KOREA
If you are looking at expanding your business in the South Korean market, take advantage of the power and reach of SECONEXPO. SECONEXPO is the single largest exhibition for security in Korea and its scale, contents, visitor quality, promotion and government support are unmatched by any other events of its kind in Korea.
EXHIBITION PROFILE
SECONEXPO is Korea' largest and Asia's leading security exhibition and conference. It is the most comprehensive security event that showcases a full spectrum of the security industry covering topics such as CCTV, access control, biometrics, IP surveillance, perimeter security, alarms and detectors, convergence and integration.
Launched 13 years ago, SECONEXPO has attracted qualified security buyers at the Korean and Asian governments, public corporations, private enterprises that are conducting large-scale security projects.
SECONEXPO 2014 is sponsored by 4 ministries of the Korean government and co-organized with 18 security associations.
The scale of SECONEXPO 2014 is expected to be 400 exhibitors, 800 booths and 40,000 visitors. SECONEXPO is held in Korea, the hub of technological innovation for security. Korean security companies are leading the market in terms of technological innovation. So, security players in the Asia Pacific region gather in Korea to see the trend in security technology and gauge the market sentiment.
Number of Exhibitors: 400+

Number of Booths: 800+

Number of Visitors: 40,000+
HIGHLIGHT
SECONEXPO 2014 (March 12-14, 2014),
Date: 12~14 March, 2014/ Venue: KINTEX, Korea/ No. of Exhibitor (Expected): 400+/ No. of Visitor (Expected): 40,000+
Backed by the 4 Korean government ministries, SECONEXPO 2014 attracts qualified security buyers at the Korean government, public corporations, private corporations that are conducting LARGE-SCALE security projects.

SECONEXPO is the single largest exhibition for security in South Korea and its scale, contents, visitor quality, promotion and government support are unmatched by any other events of its kind in South Korea.

The Korean Government and its affiliated organizations are co-organizing SECONEXPO 2014 and will host a bunch of other side events. These various side events are to attract almost all the people involved in the South Korean security industry.

South Korea's No. 1 security media SecurityWorld Magazine is the official media of SECONEXPO 2014, so one of the much appreciated benefits to the SECONEXPO exhibitors is that they are promoted to the market all year round with SecurityWorld magazine and online Boannews.com.

A good opportunity to educate the potential Korean customers is a conference speech. SECONEXPO 2014 holds a Technology Conference featuring important security technology topics.
CONTACT INFORMATION
Tel: +82-2-719-6931
Fax: +82-2-715-8245
secon@boannews.com
www.seconexpo.com
---
---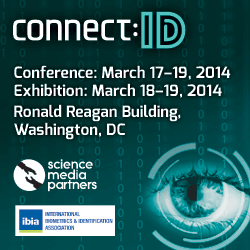 Connect:ID – An Exploration of Physical & Digital Identity in the 21st Century
17 – 19 March, 2014. Ronald Reagan Conference Center, Washington, DC, USA
Science Media Partners Ltd and the International Biometrics & Identification Association (IBIA) have launched a visionary new international conference and exhibition – connect:ID – that focuses on all aspects of personal identity and the opportunities for its management in both the physical and digital worlds.

Taking place on March 17-19, 2014, in the heart of Washington, DC, connect:IDwill unite solutions adopters and stakeholders from the four corners of the globe and will explore the development and fusion of multiple advanced identity technologies – including biometrics, secure credentials and digital identity systems.

Contact: Janine Bill, Exhibition Sales & Sponsorship Manager at Tel No: +44 (0) 1189 843209 or by email at: j.bill@sciencemediapartners.com. www.connectidexpo.com
---
---

18 – 19 March, 2014. Phoenix Convention Center, Phoenix AZ
Border security leadership from federal, state, and local law enforcement, military, international officials, and industry professionals will converge in Phoenix, at Border Security Expo, the world's largest show and conference focused on issues confronting borders. The 2014 event will feature:
A world renowned conference focused on: Disrupting and Dismantling Transnational Criminal Organizations

Awards presentations & memorial ceremonies

Exhibition featuring over 200+ of the latest products and innovations

Networking opportunities during and after the expo
From education to implementation, Border Security Expo 2014 is the most effective and productive way to gain knowledge of important trends, network and learn from your peers, and evaluate products and services.
Contact
John Moriarty
203-822-7953
jmoriarty@EagleEyeExpos.com
---
---

26 – 28 March, 2014. Brno, Czech Republic
CBRNe threats are once again at the forefront of many Governments across the globe with many eyes looking at the possible use of Chemical Weapons in Syria and the threat from North Korea not too long ago. CBRNe Summit 2014 will discuss the different responses from Governments and Military to CBRNe threats.
Detecting a CBRNe threat is always developing and Governments and Defence Ministries need to look back at past cases to identify the best and most effective way to combat a CBRNe threat. With many hazardous devices being hard to identify it is critical that the public sector are up to date with the latest detection technologies provided by key CBRNe players in the private sector.
CBRNe Summit 2014 will discuss the latest threats and analyse the most efficient ways of detecting the threats before the attack happens. With in-depth presentations from the industry leaders from the public and private sector this is an event not to miss out on. Taking place in Brno, Czech Republic to allow attendees to meet with senior officials from NATO JCBRN Defence Centre of Excellence to learn the latest ways of combating different types of CBRNe disasters.
Interested in speaking, exhibiting/sponsoring or attending please email us at events@intelligence-sec.com
---
---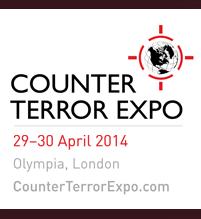 29-30 April 2014. Olympia, London
International Security for an Evolving World
Clarion Defence and Security are delighted to announce Counter Terror Expo 29-30 April 2014, Olympia, London. Counter Terror Expo is the largest international event to mitigate threats, protect against terrorist attacks and understand modern day risks. With a 9% attendance increase in 2013, Counter Terror Expo has cemented its position as the must attend leading counter terrorism and security event to attend. Counter terrorism, law enforcement and security professionals are requested to add the show dates, 29-30 April 2014, into their diary today.
Counter Terror Expo was established with the intent to deliver a unique and secure environment in which professionals within the critically important counter terrorism and security arena can come together to share experience and gain knowledge. In the last 5 years, the event has grown vastly to be a truly key gathering of the leading experts in the field from within the Police, Emergency Services, Government, Military, Intelligence & Security Services, Private Sector, Large Scale Sites, Oil & Gas, Cyber, Maritime/Anti-Piracy and Critical National Infrastructure, worldwide.
Top Line Figures from CTX 2013:
9,254 Total Attendance 9% increase on the 2012 event
753 Delegates 7% increase on the 2014 event
108 High Level Conference Speakers 14% increase on the 2012 event
368 VIP 123% increase in VIP's
84% of attendees have purchasing authority or influence the purchasing process
73% of attendees have a security project planned within the next 12 months
82 countries represented top countries in attendance included: USA, France, Norway, Sweden, Russian Federation, Germany and Saudi Arabia
Counter Terror Expo 2013 once again displayed its industry relevance and growth through its multiple, internationally acclaimed conference streams, live demonstration areas, and free to attend workshops. In 2014, the event will build on that success to deliver content and solutions that continue to meet the needs of international security in an evolving world.
Speaking about the success of Counter Terror Expo 2013, Philip Hunter, Event Director, Clarion Defence & Security announced;
Counter Terror Expo has once again proven its unique ability to discuss debate and provide strategies and solutions to counter todays evolving security threats. The increase in attendance numbers in 2013 has established the event as a leading counter terrorism and security show worldwide. Companies who are interested in meeting a record number of counter terrorism, law enforcement, military and corporate security end users should discuss how Counter Terror Expo 2014 can form part of their marketing plan with a member of the event team.
Counter Terror Expo will take place on 29-30 April 2014, Olympia, London, and will host 10,000+ attendees and over 400 leading exhibitors. Companies interested in exhibiting should contact:
Zoe Bonser – Email: zoe.bonser@clarionevents.com
Dean O'Reilly – Email: dean.oreilly@clarionevents.com
Or visit: www.counterterrorexpo.com
---
---

Cyber Security and Digtial Forensics
20 – 22 May 2014, Le Meridien Kuala Lumpur, Malaysia
Cyber Security and Digital Forensics 2014, taking place on 20 – 22 May 2014 in Le Meridien Kuala Lumpur, Malaysia, will be a fully comprehensive three day event including two days of conference and exhibition and an exclusive site-visit to the lab of CyberSecurity Malaysia. Fully endorsed by CyberSecurity Malaysia this is an excellent opportunity to attend and network with heads of international and regional cyber organizations, senior Malaysian, Asian and international representatives and leading industry figures of cyber security.
---
---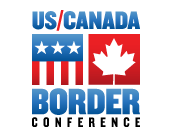 16-17 September 16-17, 2014. Cobo Center, Detroit, MI
The US/Canada Border Conference will bring together local, state, provincial and federal agencies, as well as business organizations, in a central location convenient to both nations, to advance the "Beyond the Border" Action Plan between the United States and Canada.
Government and industry leaders share their knowledge and thoughts at a conference designed to enlighten, inform and educate the audience on the complex challenges outlined in the bi-lateral plan. The program advances the mission by providing a forum that helps foster collaboration while gaining a better understanding of the political, infrastructure and technological needs in the combat against current and future security threats, while improving the efficient flow of legal cross-border activity
Sponsors will attend all keynotes, panel sessions and food functions and have the unique opportunity to meet face-to-face with border security leadership from both the US and Canada.

Website: www.Beyond-Border.com
Contact
John Moriarty
jmoriarty@EagleEyeExpos.com
203-822-7953
---
---