Global Maritime Security Technologies & Markets – 2010-2014
Whether the Arctic Sea was carrying missiles destined for Iran or timber en route to Algeria, the incident illustrates one disturbing fact: maritime security is woefully inadequate and needs to be improved.
Global Maritime Security Market Forecast by [$Billion] – 2010-2014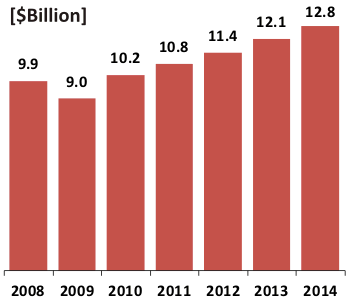 Globally, the maritime security market has dropped 8.7% off last year's numbers, which comes as no surprise considering that the global recession triggered the worst crisis the maritime industry has seen in more than seventy years.
Nonetheless, Homeland Security Research Corporation has done the research and analyzed the data, and believes the maritime security market will experience significant growth over the next five years. In its latest report HSRC forecasts that this multi-billion dollar market will expand at a CAGR of 7%
Global Maritime Security Technologies & Markets – 2010-2014
Port security, counter-terrorism, regulatory compliance, container and people screening, as well as liquefied natural gas port and tanker security are but a few of the motivating factors behind HSRC's forecast. In more than 220 pages, 93 figures and 42 tables, HSRC presents the trends and business opportunities available in this multi-billion dollar market. This report provides exclusive insights and analysis of this resurgent market by:
End Customers – (e.g., port authorities, shipping companies, government agencies, Coast Guards, LNG facilities, law enforcement agencies)
Products and technology – (e. g., container-screening systems, nuclear-radiological people-screening technologies, biometric ID port perimeter security, C3I infrastructure, satellite-based maritime tracking)
Commercial Sectors – (e.g., systems, service and upgrade markets)
Business Opportunities by Threats & Vulnerabilities – (e.g. WMD, explosives, deep water security perimeter security)
Geography
Market Drivers & Inhibitors
To learn more about this vital information contained within this report, please click
HERE
for Table of Contents. To order click
here
or call 1-877-353-7316.